NOW LISTED
242 Mar Vista Dr. , Monterey CA 93940- 4 Bedroom, 3 1/2 Bathrooms.
Superior Craftsmanship and Exceptional Living in Monterey, conveniently located in a rare sunbelt inside the Monterey Skyline Forrest. This stunning Carmel Stone clad masterpiece is situated on a generous 0.44 acre lot, and has an enormous level back yard.
This beautiful home is incredibly deceptive, and behind its front doors you will find over 3485** sq.ft. of living space with 4 bedrooms, 3.5 bathrooms, formal and informal dining, kitchen, living room, a washer/dryer room, and a downstairs garage. This wonderful residence also includes a large home theater with a 103" Runco Plasma Wall TV and surround sound, a large dance/workout studio with surround sound, a quiet meditation room, and 2 independent driveways.
Finished with the finest of materials, this home is a designers delight. Inside you will find custom cabinets with glass door fronts, limestone flooring, marble counters, and hand trowel colored-in-plastic walls. A beautiful upstairs stone fireplace, surrounded by a quiescent wood and marble inlaid floor.  There is even a central vacuum system, On-Demand Instant Hot Water, and a programmable one touch lighting system that you can remotely operate from your car. All of the doors are solid handmade wood, with beautiful carved tops.
Outside are rich hued copper barrel gutters accenting a magnificent stone facade, and a custom balcony  with a sturdy metal railing that generously wraps around the deck. There is even a Luxury Spa Hot Tub with a built-in stereo, overlooking 17 beautiful cherry blossom trees.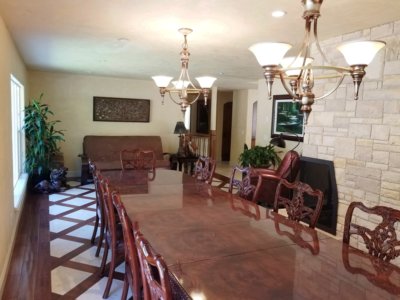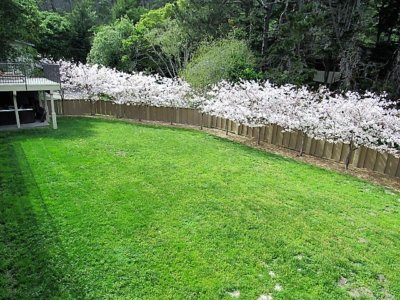 Offered at $1,495,000.
** Sq. Ft. permit pending (2 weeks) increase from 2710 to 3485.
Changes Made to the Inside of the house
Removed downstairs fireplace – inserted metal support beams – making the movie room the safest room in the house.
Installed a extremely Large 103" Runco Plasma Wall XP-103DHD TV and Sound System in the TV room – $150,000.00 –
Removed the glass sliding doors from the master bedroom and Erika's office – walled the area – and add triple-pane windows – $53, 259.00
Removed and changed closet door mirrors in both the master bedroom and in Erika's office
Transformed the 2 car garage into a dance/workout studio:
(installing wooden floors, sealed the outside garage doors, adding mirrors on 2 walls, installed a sound system, an independent heating system, cabinet, an independent outside door, and insulated the bathroom – $42,500.00
Installed 2 additional sound systems in the house – 1 in the master bedroom – and 1 in the "Dance/Workout Studio" – $2,622.67
Insulation the entire roof.
Add fire-screen to the fireplace, plus tools – $9,813.50
Installed new washer and drier (2015) – $3,849.37
Installed new dishwasher in Kitchen
Installed a sliding cabinet door around furnace – $2,700.00
Installed Water Ionizer in downstairs bathroom – $3,3580.00
Renovated the kitchen's cabinet, and the bathrooms cabinets (2016).
Also Included in the sale of the house is a long cherry-wood Luxury Table and 10 chair dinning set from England – original cost – $29,000.00
Changes Made to the Outside of the house
Installed a House Back-Up Generator – RS20000 (2009). Generator which automatic tests once a week (Mondays). This is a hospital generator – and can run non-stop for months – $26,617.00
Added an outside concrete stair on the left side of the house – that leads to the generator.
Installed a 880 Sundance Luxury Spa Hot Tub- with built-in stereo, etc. –  $19,000.00
Built redwood fence and benches around the Hot Tub – $4,700.00
Planted 17 cherry blossom trees along backyard fence – $9,000.00
Repairs Made to the House
1.Fix downstairs garage ceiling leak  – caused from excessive water pressure –
Installed the water pressure regulator on outside of house.